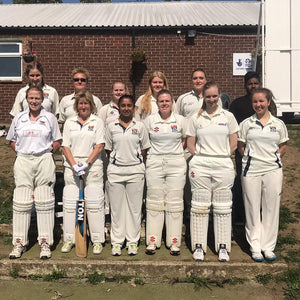 TEAM SPOTLIGHT: Actonians CC
Club/Team Name: Actonians Ladies CC, West London W5 4LL
 Date Established: 2011 (although the club was originally Dukesmead WCC, formed in 1927, and merged with Old Actonians CC in 2011)
 What do you offer for women and girls?
Total integration as equal players in the club. Women play in men's league teams, they umpire and score for men's matches (and vice versa for ladies matches), women sit on the committee as of right in the constitution, and the women's team get priority on the main club pitch on Sundays. Plus club all train together, socialise together and next year go on tour together
Women's teams play in a competitive 40 over league and a 20 over development league. We also have All Stars, Dynamo's, girls at U10, U12 and U 14 leagues, with older girls playing in the ladies teams
 Tell us about your journey so far?
Dukesmead WCC joined the club as a women's team with a lot of heritage but no long term prospect, as we had no youth and no pitch. Now, after 10 years of full merger, its pleasing to see that 5 of the first young girls we coached have now been to / are at university, and still playing with us, and we have a thriving women's section of a variety of age and ability.  A tribute to the spirit at the club and integration of all players as one club, that so many enjoy playing club cricket at Actonians.
 Which player should we watch out for this summer? Eva Solt
 What are your ambitions for the future?
Get promoted to the WCSL, expand  the development squad to encourage more adults to start playing cricket or return to cricket, and more girls to step up to ladies club cricket
 QUICK FIRE ROUND
 Funniest team member? Lucy Davies
 Best Sledger? Aishah Khan
 Favorite opponents? Ickenham, always a competitive game played in the right spirit, whether competitive  league or development
 Team Song? It was "Reach for the Stars" when we were Dukesmead
 Best Support? Mens 3rd XI
---