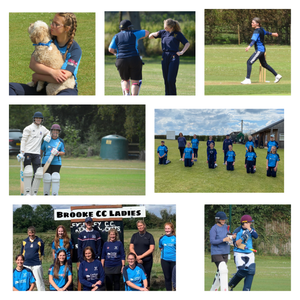 TEAM SPOTLIGHT: Brooke CC
Club/Team Name: Brooke CC Ladies
 Date Established: 2015
 What do you offer for women and girls?
This season we can offer our members a chance to participate in not only a hard ball league but a soft ball one as well. Along side these options we arrange friendlies with other clubs and in-house options as well. Our team members are a very wide range of ages and abilities and are very supportive of each other. There have been some amazing friendships formed and we all certainly look out for one another. Its more than just cricket! Our training is two hours a week with at least 2 qualified coaches who put us through our paces, its great and we are learning so much. Whatever your standard or age you will be welcomed whole heartedly.
Tell us about your journey so far?
The girls section started before the ladies and was around about 2010 with the ladies beginning around 2015. In 2019 the ladies were a small but strong group and at the start of the first lockdown we worked to increase our numbers which we have done. Our current group of active players is about 40 ladies and girls and things are looking positive going forward. The whole team has the same outlook and gel as a group from young to not so young!
 Which player should we watch out for this summer?
Hermione Stewart – New to cricket but so hard working and very keen to improve which she is doing in leaps and bounds!
What are your ambitions for the future?
To keep the group playing in a supportive yet competitive manner. Embracing all standards and abilities. To play whilst enjoying the game and making friends for life. What we don't know and can't do we are ready to learn and our coach Harvey Lake (hjlsports) is really helping us with that progression.
QUICK FIRE ROUND
Funniest team member? Jo Angell
Best Sledger? Mmmmmmm not really a sledger but Sam Tea has some great lines! Also very positive to other teams
Favorite opponents? Top Croft CC Ladies
 Team Song? Mmmmmm Harvey Lake supplies music at most training sessions and the variety is huge! We have tunes from musicals to rock…..never a dull moment at our sessions 😊
 Best Support? Each Other!
---