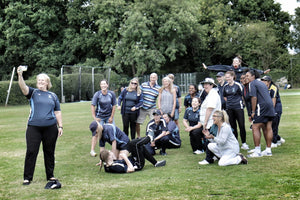 TEAM SPOTLIGHT: Ickenham CC
Club/Team Name: Ickenham Ladies Cricket Club
Date Established: 2006
 What do you offer for women and girls? This season we play in the Championship of the Women's Southern League, as well as running a second XI (for the first time!) in the Derick Morgan Middlesex T20 League. The Ladies team was founded on enjoyment of the game and each other's company. The team support each other, laugh, cry, win, lose and laugh some more together! We train hard, we compete, we give our best, but we never lose that fundamental enjoyment of the game and of just being together! We welcome anyone of any ability who can embrace that.
 Tell us about your journey so far? ICC Ladies started playing friendly fixtures in 2006 and joined the North London Women's League in 2009. The team won their first silverware (the North London T20 Cup) the following year and won the league for the first time in 2011. By this stage some of the team were taking coaching badges and getting involved in supporting the growing girls section. We are hugely proud that 2 of the girls who have come through the girls set up are Sunrisers and Middlesex 1st XI players Katie Wolfe and Emily Thorpe! ICC Ladies joined the Southern League in 2014 and worked our way up to the Premier League in 2019 after back-to-back promotions. We only stayed for a year but learnt a lot! 
 Which player should we watch out for this summer? Phoebe Flaherty
 What are your ambitions for the future? To have a thriving girl's section again and continue to have two ladies teams who are enjoying their cricket and playing to their best ability.
 QUICK FIRE ROUND
 Funniest team member? Georgia Leadbetter (G-Force) – 2XI Team Captain
 Best Sledger? Anna "Do you fancy a game of I spy" Harris
 Favorite opponents? Wanstead
 Team Song? More of a chant from Bumble (Mr David Lloyd) himself "Come on you Ickers!"
 Best Support? Our wonderful officials: Michele O'Grady (umpire) and Jo Potter (scorer)
---